JOY JOY Village Guide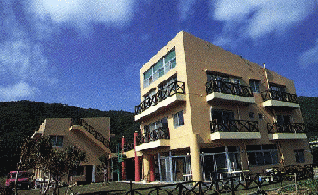 JOYJOY is ''eautiful pension style inn.
On the 1st floor is the diving service. The 2nd floor offers lodging and dining.
(Meals in JOYJOY are only for Village gests.)
There are China rose and banana trees in the entrance.

Even if it says it what VILLAGE is well received that the meal is delicious.
Most customers are repeat customers.
Please come to play, to the VILLAGE that offers delicious meals and lovely clean room.

The staff greets you at the harbor in our white JOYJOY VAN.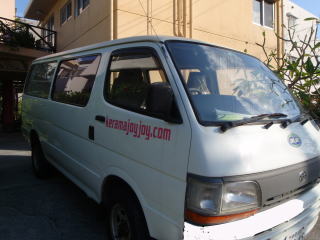 –Depending on a season (July-September, Golden week & New Years ),
one person takes a extra charge ( plus 1,050enn )
Western-style room <NO SMOKING ROOM>
7020enn with breakfast.( per person )
( Room is for 1`3 people)
œ Includes bathroom
œ TV,air conditionerequipment
œ towels

Japanese-style room <NO SMOKING ROOM>
5400enn with breakfast. ( per person )
(Room is for 1`3 people)
œ Floor bedding.
œ Shared bathroom
œ TV,air conditioner.
œ towels

Dining room <NO SMOKING ROOM>
œBreakfast is prepared in accordance with diving start times.
œDinner is from 6p.m. (sorry we can't serve now)

Courtyard
œThe pet dog is your reception.
œ White tables and chairs, and summer lounging equipment.
œ Wonderful time relaxing under the starlit sky in the courtyard.
>> Access to the Breathtaking KERAMA,ZAMAMI IS.